8 Amazing Winter Activities for Some Chilly Outdoor (or Cozy Indoor) Fun!

Are you longing to get outside and frolic in the snow, or would you rather curl up indoors with a hot drink? We know you're all cozy and comfortable in your Skyline Living apartment, but hear us out...there are plenty of amazing outdoor activities to engage in this winter as well! The Government of Canada recommends daily physical activity as an important part of a healthy lifestyle, and that is true even during the frigid winter months.
Stumped for something to do that makes it worth it to struggle into those snow pants? How about these great ideas?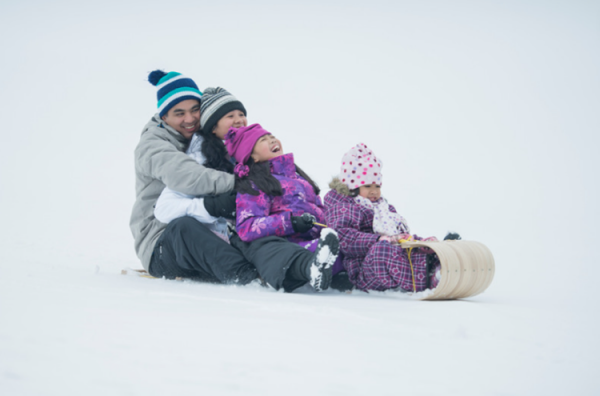 Consider taking your family tobogganing

If you live somewhere with good tobogganing hills nearby, this is an ideal time to bust out that old sleigh that gets used maybe once a year and take a tumble down the hill! Whether you're using a wooden sled, a magic carpet, or any other type of toboggan, it's always a fun activity when weather permits!
Remember to dress warmly with a hat, coat, and mittens or gloves—wear snow pants if you have them to keep dry while you're having a good time! Be aware of any potential hazards nearby and obey all city signage.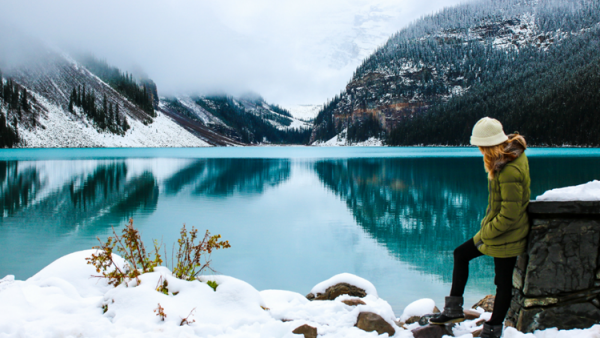 Check out your local landmarks
Have you ever seen Niagara Falls in the snow? What about Lake Louise? Casa Loma? The Parliament Buildings? St. Joseph's Oratory? If you live close to one of Canada's great landmarks or even a lesser-known but still beautiful local landmark, now may be a great time to view it. During the winter, you'll see these sites as you've never seen them before, surrounded by or covered in snow.
Consider making a mini-winter 2022 bucket list of places you want to see and document the whole thing with photos on social media – a new reason for your friends and family to connect with you. If travelling, even locally, isn't something you're comfortable with right now, how about planning some day trips for when you are? Learn how to build up your travel bucket list with these great suggestions!
Get your heartrate pumping and go skating
If there's an outdoor rink nearby, it can present a perfect opportunity to engage in a safe and fun winter activity. Skating and sledge skating can be a great opportunity for exercise, to perform tricks, or just to have a leisurely glide around the ice.
Never skated before? There's no time like the present to have a friend or family member teach you a new skill! You're sure to make memories with your loved ones—just make sure the rink or ice surface is safe to use before venturing out.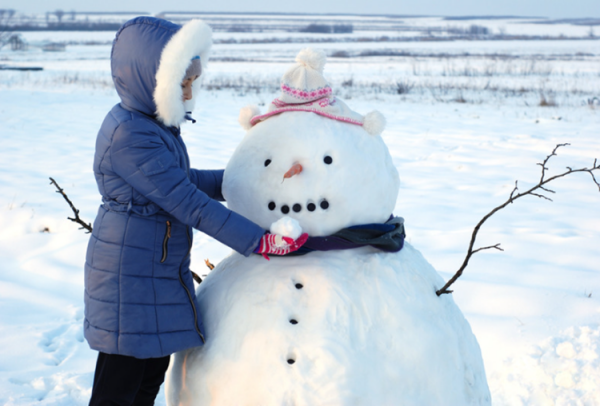 Build a snowfriend
Do you want to build a snowman? <You're welcome for the Frozen earworm> Or a snowperson of any gender? Or even a snow animal? If you have packing snow to make a snowman, why not?
Add some decorations to make your snowman especially elaborate—the traditional hat and carrot nose or maybe something more unique and unorthodox like a beard, bunny ears, or glowstick antennas? You decide. If your kids would like to learn how to build a snowman, they can check out this fun video tutorial! Haven't built a snowman in a while (or ever)? No problem. For a more grown-up take, check out this step-by-step guide to learn the basics.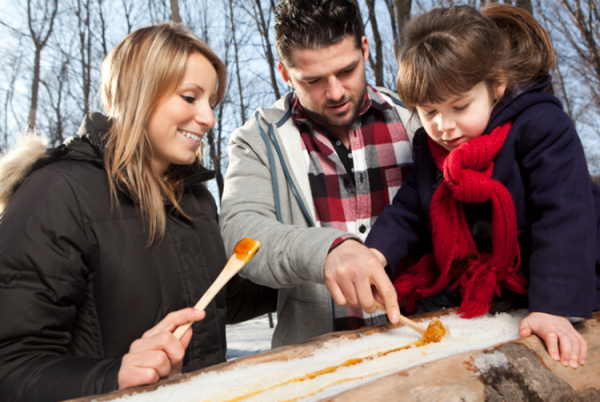 Indulge in some maple taffy on snow
A delicious Québec tradition involves putting heated maple syrup on snow in order to create maple taffy and eat it up with a popsicle stick. Long practiced at the Québec Winter Carnival, this is a delicious tradition that makes winter all the more enjoyable and sweet. Ricardo Cuisine has broken down the simple steps to making maple taffy in this easy recipe.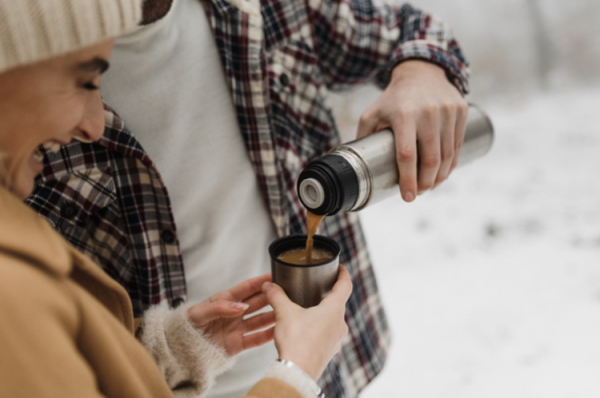 Warm up with some new hot drinks
The best part of all these outdoor activities? Say it with us...coming back home and curling up with a warm drink and reflecting on the fun memories you've made!
Whether enjoyed indoors or in a travel mug that you can take outdoors with you, now is the perfect time to find the ideal recipe. Experiment with some different approaches, buy some different ingredients, and find the best hot beverage that works for you! Maybe even invent something new altogether! To try something different, experiment with a delicious and creamy Brazilian hot cocoa recipe!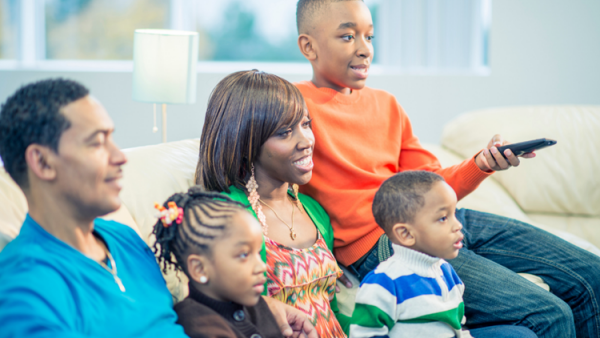 Binge watch a TV series
If you've had enough chilly fresh air and would like to sit still for a while, how about binge watching a TV series? What show do you need to get caught up on? Many shows are releasing their new seasons during winter, likely because of so many people hunkering down indoors due to the cold weather.
Are sitcoms your taste? Reality shows? Maybe something a bit more dark and dramatic? Regardless of where your preferences lie, a great show can likely be found for you to binge watch this winter season!
To make a fun game out of it, check out the Binge Watch Bingo card that we made! If you'd like to make your own Binge Watch Bingo card, visit the My Free Bingo Cards website!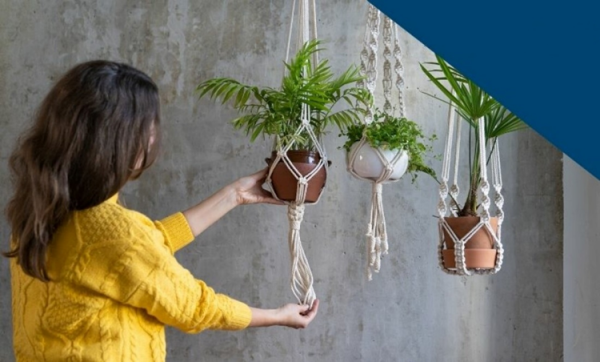 Why not try some of the free, fun, and educational Skyline Living online events?
During the COVID-19 pandemic, Skyline Living hosted a number of informative online events for tenants. These online events have now ended and in-person events have resumed, but you can still view them on our website.
These online events provided tenants with the opportunity to engage in fun and educational activities through webinars and video tutorials. In one online event, Laura McDonald shared a video tutorial on how to use the art form of macramé to create a beautiful artisan-style plant hanger!
Browse through recordings of some of the past online events on our website.
We know that there's bound to be something in these eight ideas to inspire you to have some great experiences this winter. Don't be shy, share your adventures with us on our social media using the hashtag #SkylineLivingRocks. We're excited to cheer you on!
Feeling comfortable indoors away from the cold and looking to meet some of your Skyline Living neighbours? Check out this article for tips on how to get to know your neighbours better!