Get to know Skyline Living through our About Page

We have a great story to tell about how Skyline Living came to be and the About page is where you'll find it!
You can jump to the About page from any page on our website by clicking on the About tab along the top right-hand bar.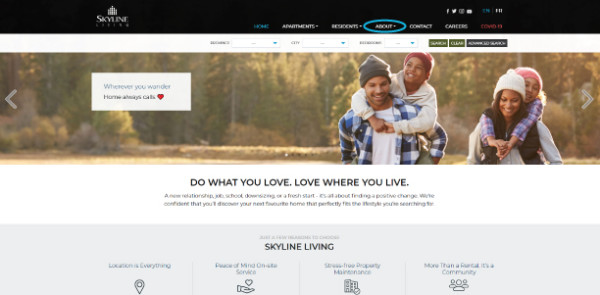 Or if you have a smaller screen it may look like this: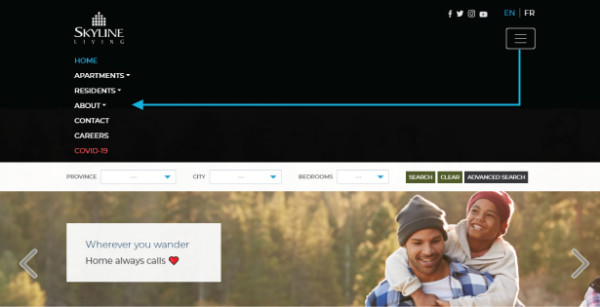 This will bring you to the About page where you can get to know Skyline Living better. Here you'll find links to all of the other About subpages:

On this page, you'll find a timeline of Skyline's evolution into the multi-residential rental property leader we are today.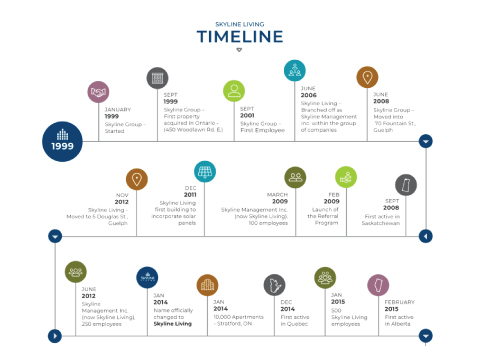 Further down, is a link to our Community Initiative page that explains the various community programs, events, competitions, and fundraising that we do.

Don't forget to check out all the pages in our About tab!
Hover over the About tab in the top navigation bar to open up the dropdown menu.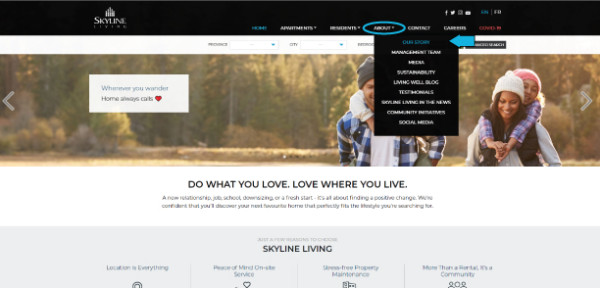 Or, if you are on mobile or a smaller screen, click the three horizontal lines in the right-hand side of your screen to see the other subpages under the About page.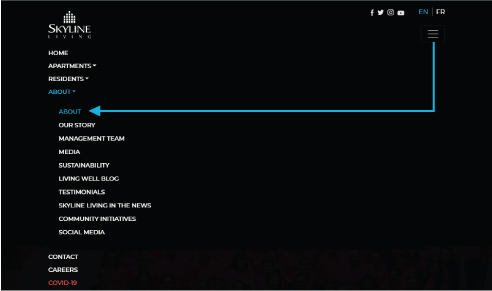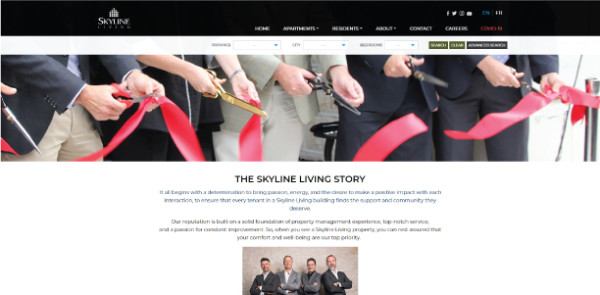 Here you can read about the Skyline Living origin story, some impressive stats about the business, our mission, as well as our values.
Scroll further down to see what good things we do in our communities. You can see what Charitable Giving we're involved in, our Environmental Initiatives , or the Social Activities that we offer to our tenants.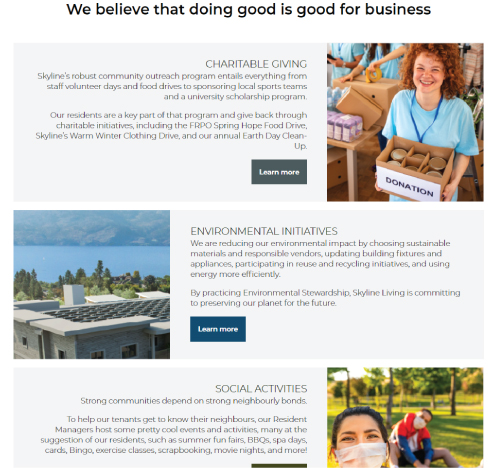 Further down, you'll find a section that can lead you to new career opportunities with Skyline Living.
Hover and click on the photos of the Management Team to get to know each of our executive team members.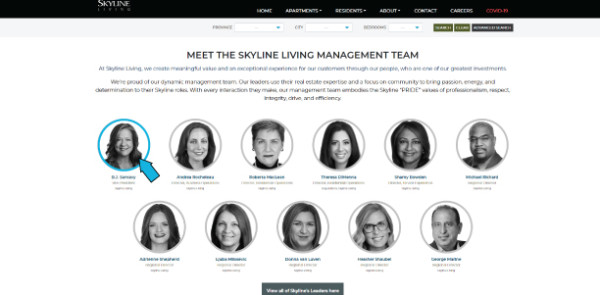 If interested in learning about more leaders within Skyline Group, you can click the "View all of Skyline Leaders Here " button.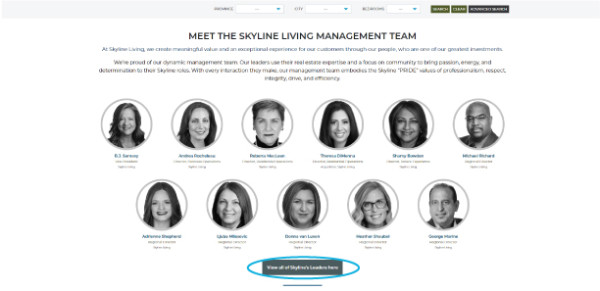 This will take you to the About Skyline Group Page where you can explore more details about the company.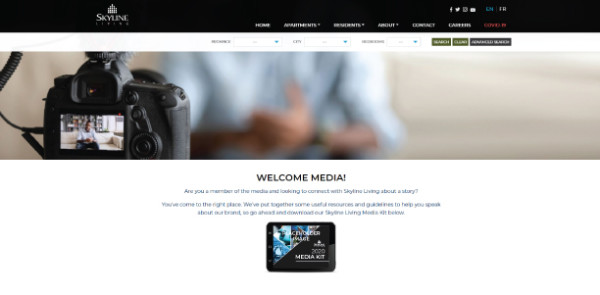 We love to chat with the media and welcome all inquiries. Click the button to download the Media Kit.
If you're interested in receiving news on our latest launches, make sure you submit the Press List form while you're on the Media page.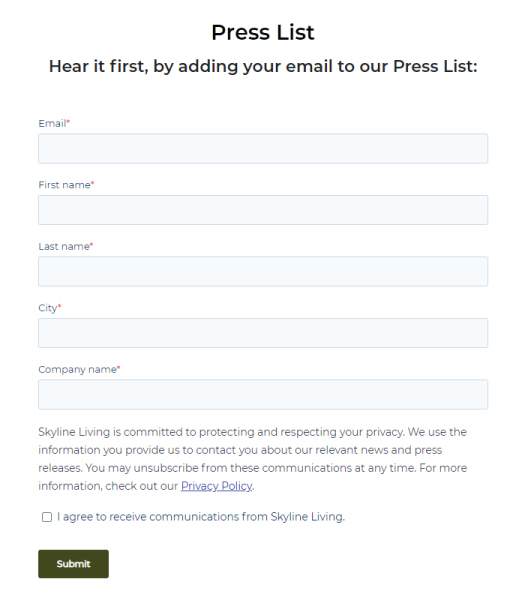 The Sustainability page is the place to learn about our efforts in reducing our carbon footprint and introducing sustainable practices to the multi-residential housing industry.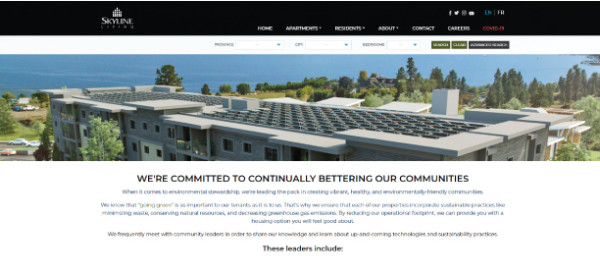 Take some time to read through the infographic of Sustainable initiatives we're involved in.
Here you will find articles and tips on your apartment search, rental lifestyle lifehacks, and some of our community initiatives.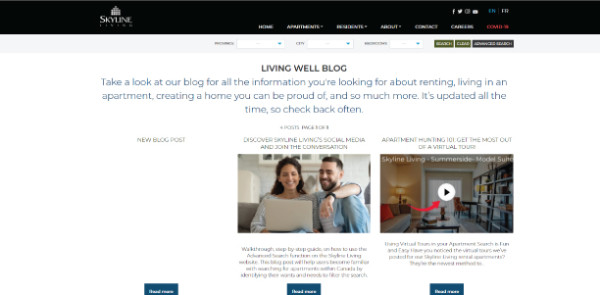 With plenty of satisfied tenants all across Canada, we've racked up quite a few testimonials that we're more than happy to share with you! See what your fellow renters are saying about their Skyline Living experience.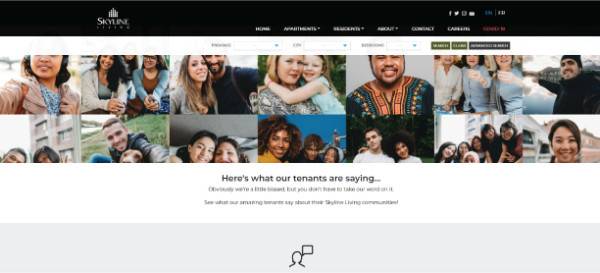 We're always growing, piloting new projects, and shaking up the housing industry and this is the place where you can read all about it .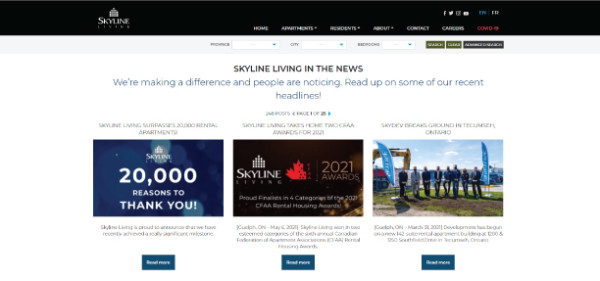 Learn how Skyline Living gives back to our communities as well as encourages our tenants to participate and support worthy causes.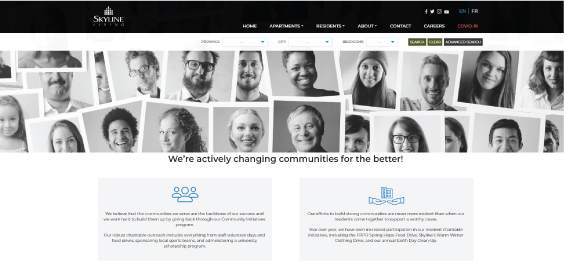 We've grouped all our social media accounts in one handy place to make it easier for you to follow us and join in the conversation on Facebook, Instagram, and Twitter.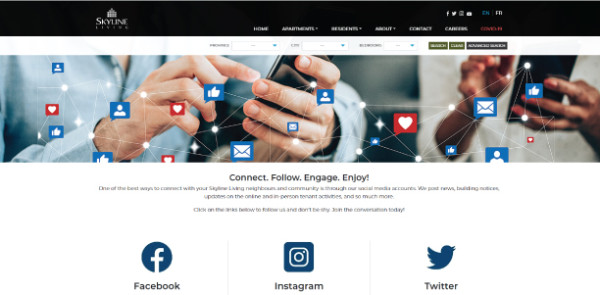 Those are all the ways that you can get to know Skyline Living a little better. Have fun exploring the website!