Update: Les Jardins Radisson Damaged by Tornados That Touched Down in Gatineau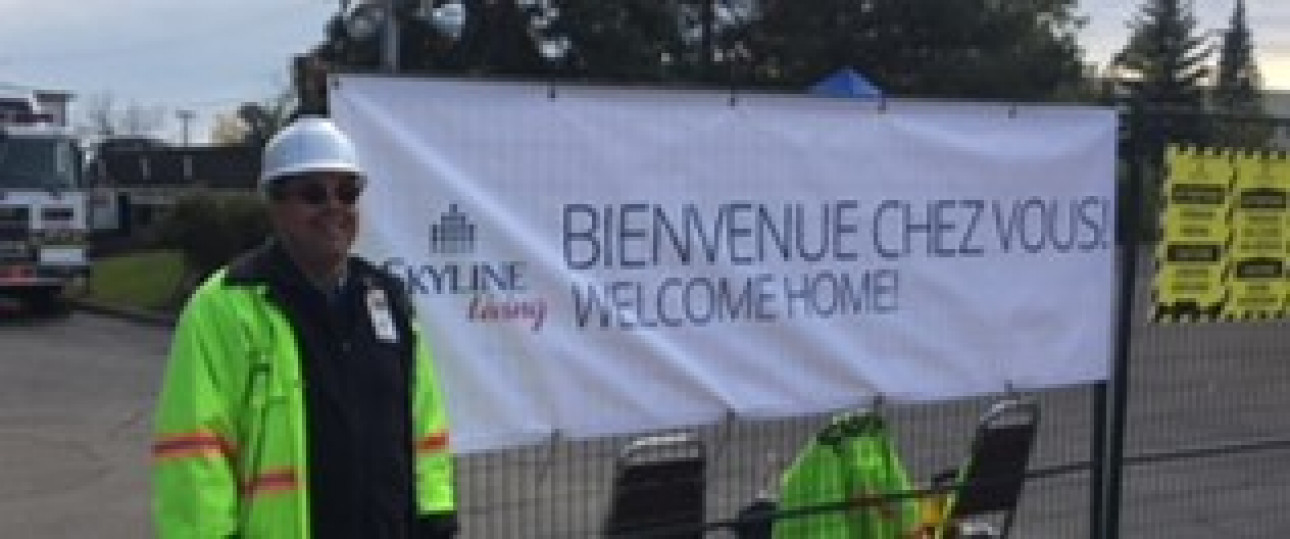 [Gatineau, QC – October 3, 2018]
On September 21, 2018, Les Jardins Radisson apartment complex was significantly impacted by the tornado that touched down in Gatineau, QC. Windows were shattered, balconies railings were damaged, cars were overturned, and portions of the roof was damaged.
After the immediate danger of the tornado passed, site staff worked with emergency services to evacuate tenants from the property. With tenants safe, Skyline Living began assessing the damage and working with city officials, Hydro-Quebec, the fire department, and the police department to determine next steps.
The first step was to have all buildings inspected by the engineering firm Douglas Consultants Inc. Following its detailed inspection of each building, the firm confirmed that all buildings were structurally sound, which meant construction crews could get in quickly to begin the restoration.
The Skyline Living team mobilized, calling in over 30 staff from across three different provinces to help with the restoration. Trades teams were on site within hours, and plans were quickly developed to get tenants back into their homes as quickly as possible. Ten days after the storm hit, the property was deemed safe, and over 600 families began moving back into their homes.
"It was devastating, when I first walked on to the property," commented R. Jason Ashdown, Co-Founder, and CSO of The Skyline Group of Companies. "I felt for the over 600 families that had been evacuated, and after seeing the damage the storm had caused, I thought it would be months before we could get the property safe enough for tenants to return home. But, thanks to the tireless efforts of Hydro-Quebec, the fire and police departments, the tradespeople, our suppliers, the many volunteers, and our on-site and head office staff, we were able to open the doors for tenants just 10 days after they were evacuated."
"Skyline Living would also like to thank the officials at the City of Gatineau. Their inspectors worked well outside their normal hours to accommodate all the work that needed to be done to allow tenants back home," stated BJ Santavy, Vice President, Skyline Living. "But most of all, we would like to thank our tenants of Les Jardins Radisson. Not only were they understanding, flexible, and patient throughout the restoration process, a number of them also brought coffee and treats for the work crew as a way of showing their appreciation."
"It was also really nice to see tenants helping each other on move-in day," continued Mrs. Santavy. "We have a number of older tenants in the buildings, and their neighbours were only too eager to help carry things in, and help their suites feel more like a home."
The restoration project is expected to take the next several weeks to complete. This includes replacing windows, repairing balconies, and ensuring the entire property is free of debris.
About Skyline Living
Skyline Living, based in Guelph, is a division of the Skyline Group of Companies, a national real estate investment and property management organization. Skyline Living is committed to providing best in class apartments, environmental leadership, and community support. Our goal is to improve the lives of our residents, our employees, and the neighbourhoods in which they live.
To learn more about the Skyline Group of Companies and Skyline Living, please visit our website at www.skylineliving.ca.
For media inquiries, please contact:
Matthew Organ, President, Skyline Apartment
Skyline Group of Companies
5 Douglas Street, Suite 301
Guelph, ON N1H 2S8
P: 519.826.0439 x 235