The Skyline Living Story
 It all begins with a determination to bring passion, energy, and the desire to make a positive impact with each interaction, to ensure that every tenant in a Skyline Living building finds the support and community they deserve.
Our reputation is built on a solid foundation of property management experience, top-notch service, and a passion for constant improvement. So, when you see a Skyline Living property, you can rest assured that your comfort and well-being are our top priority.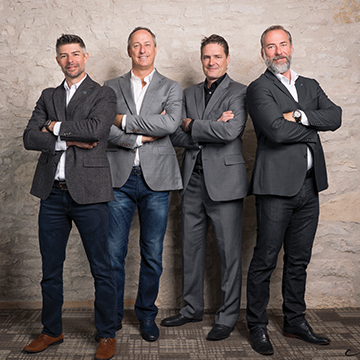 Skyline's three co-founders – brothers Jason and Martin Castellan and their good friend R. Jason Ashdown – founded what would grow to become Skyline Group of Companies in the early 90s. It all started with one house in Guelph that the two brothers purchased with the help of their dad while attending university. Jason and Martin slept in the basement while renting out the upper-floor bedrooms to other students. Over time, R. Jason joined the partnership, and together they grew their portfolio to include 52 rental homes before officially entering the apartment business in 1999 when they created Skyline.
The three Co-Founders, along with Wayne Byrd, our CFO, still actively run Skyline today. Together, with a strong management team and over 750 staff members, they have grown the business into a true leader in the apartment industry. Their passion and flair for real estate, coupled with their decades of experience in the business, have cultivated a uniquely Canadian company culture based on drive, friendliness, and inclusiveness.

Skyline has been recognized for its commitments to company culture, customer service, community service, and environmental excellence through several industry awards, and is always striving to achieve new heights.
Skyline Living operates under Skyline Group of Companies, managing the properties owned by Skyline Apartment REIT.

Skyline Living by the numbers
35,500+
Proudly serving over 35,500 tenants
21,500+
Renting over 21,500 apartments
58
Supporting 58 communities
200
More than 200 multi-residential properties
7
Rental apartment properties in 7 provinces
Exceeding Your Expectations
Living Our Values
Professionalism
Providing high quality service in a friendly and appropriate manner.
Respect
Considering the opinions, feelings, needs, and ideas of others.
Integrity
Doing the right thing, even if it isn't the easy thing.
Drive
Striving for constant improvement and pursuing our goals with passion.
Efficiency
Looking for and enacting prompt and practical solutions.
We believe that doing good is good for business
Want to work at Skyline Living?
Our people are the cornerstone of the company and we hold ourselves to a very high standard; our tenants deserve nothing less. There are a lot of benefits to working here, not the least of which is the amazing company culture.
So, if you would be a great fit, click the button to see our current openings.