INFLUENCING, LEADING, AND INSPIRING OTHERS THROUGH THE INTEGRATION OF SUSTAINABLE PRACTICES 
Skyline Living supports Skyline Group of Companies' initiative to recognize its responsibility to influence, lead, and inspire others when it comes to Sustainability. Together, we are committed to building strong, supportive and sustainable communities while challenging the status quo by demonstrating our positive impact, both socially and environmentally.
View Skyline's Sustainability Plan to learn more about our Environmental, Social, Governance (ESG) objectives and initiatives. 

WE'RE COMMITTED TO CONTINUALLY BETTERING OUR COMMUNITIES
When it comes to environmental stewardship, we're leading the pack in creating vibrant, healthy, and environmentally-friendly communities.
We know that "going green" is as important to our tenants as it is to us. That's why we ensure that each of our properties incorporate sustainable practices like minimizing waste, conserving natural resources, and decreasing greenhouse gas emissions. By reducing our operational footprint, we can provide you with a housing option you will feel good about.
We frequently meet with community leaders in order to share our knowledge and learn about up-and-coming technologies and sustainability practices.
These leaders include:
The Independent Electricity System Operator (IESO)
The Ontario Power Authority (OPA)
Members of Parliament, mayors, and other governing bodies

As green technologies progress, we will continue to prioritize and improve our environmental practices.
Skyline Group Of Companies
Green
Statistics
Sustainable Investment
Launched Skyline Clean Energy Fund (May 2018), a sustainable investment product, and Skyline Energy, a green energy solutions provider that is making waves across the sustainable energy industry. For more information on Skyline Clean Energy Fund, please visit skylinewealth.ca

AWARD WINNING
Completed TWO Award-Winning major building restorations.

SCHOLARSHIPS
Educated University classes on Real Estate Sustainability and provided 3 scholarships annually, including a Skyline Sustainability Scholarship.

Living Green
Installed a living green roof on our Skyline Group of Companies head office.
Saving The Bees
We installed two beehives on our Skyline Group of Companies Head Office rooftop in 2019 as a pilot project to help save these endangered pollinators. We are planning to implement more beehives at Skyline Living buildings across Canada.

Celebrate
We celebrated Earth Day in dozens of Skyline communities.
Savings

We have launched three occupancy sensor pilot projects in 250 apartment units. These sensors reduce the temperature in vacant units and return heat to normal levels when the occupant returns. Hydro savings are estimated at up to 20% annually.

41,420
We installed 188 high-efficiency boiler systems. Collectively, we are lowering CO2 emissions by 28 million m3 annually. This is equivalent to taking 41,420 cars off the road every year.*
*Assuming each vehicle uses 676 m3 of CO2 per year.
Skyline Group Of Companies
Energy & Water
Statistics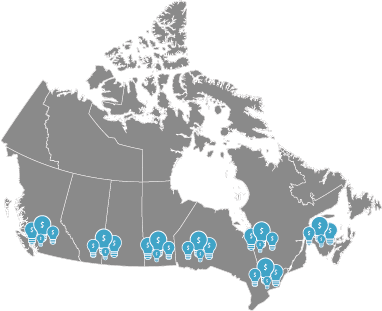 1,500
Launched a massive, cross-Canada lighting retrofit replacing 400,000 bulbs with high-efficiency LEDs, saving enough energy to power 1,500 apartments annually.

30,000
Installed 30,000+ heat reflector panels.
Heat reflector panels are placed behind the radiator, and the aluminized surface reflects 93% of the infra-red heat that is normally absorbed by the wall, so that the heat is distributed back into the room.

24
24 Electric Vehicle (EV) Chargers installed, encouraging the purchase and use of EVs to our tenants. EVs emit only 50% as much carbon as regular gas-powered vehicles.

Awards
We proudly received Alectra Utilities' Innovation Award, largely in part for our many Combined Heat & Power (CHP) installations in the St. Catharines-Niagara area. We installed 20 state-of-the-art CHP Systems with plans to install many more.

31,087
We replaced 31,087 windows with Thermal Pane Low-E Argon Energy Star windows, reducing natural gas consumption by 10-20% annually.

10,500
We installed over 10,500 Energy Star refrigerators, which use up to 75% less electricity, equivalent to powering 2,000 single-family homes every year.*
*Assuming a single-family home uses 10,945 kWh annually.

Solar Powered
Installed solar rooftop systems at 50+ Skyline Living properties to embrace the benefits of green energy.

Energy Meters
Installed WYSE submeters in our units in 170 Skyline Living buildings to garner a reduction in energy consumption.

1 Billion Litres
Replaced 12,000+ low-flow showerheads and aerators, as well as 12,000 low-flow 3-litre flush toilets reducing water consumption by up to 60%, equaling one billion litres annually. That's the equivalent of filling over 40,000 swimming pools every year.*
*Assuming the average swimming pool is 25,000 litres.
Our Green agenda gets noticed!
We're committed to continually bettering our communities and finding a better way to keep our tenants and our planet safe and healthy.
Click each image to read the whole story.