We're actively changing communities for the better!
We believe that the communities we serve are the backbone of our success and we work hard to build them up by giving back through our Community Initiatives program.
Our robust charitable outreach includes everything from staff volunteer days and food drives, sponsoring local sports teams, and administering a university scholarship program.
Our efforts to build strong communities are never more evident than when our residents come together to support a worthy cause.
Year over year, we have seen increased participation in our resident charitable initiatives, including the FRPO Spring Hope Food Drive, Skyline's Warm Winter Clothing Drive, and our annual Earth Day Clean-Up.
Spring Hope Food Drive!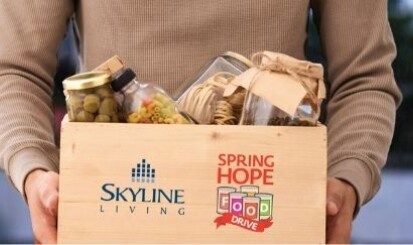 We didn't get to do it last year and we're not letting the pandemic get in the way this time! We're excited to kick off the annual Spring Hope Food…