Skyline Living Tenant Handbook
Whether you've just moved in or need a reminder, our Skyline Living Tenant Handbook is full of information you need to know as resident!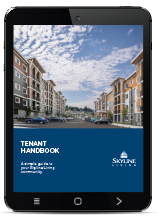 To access a downloadable PDF version of the handbook, please click the button below.

Didn't find your answer in the Tenant Handbook?
Go ahead and use the Resident Feedback Form and tell us what's on your mind. We'll make sure the right people see it and follow up with you.