98-suite Rental Apartment Development Underway in Welland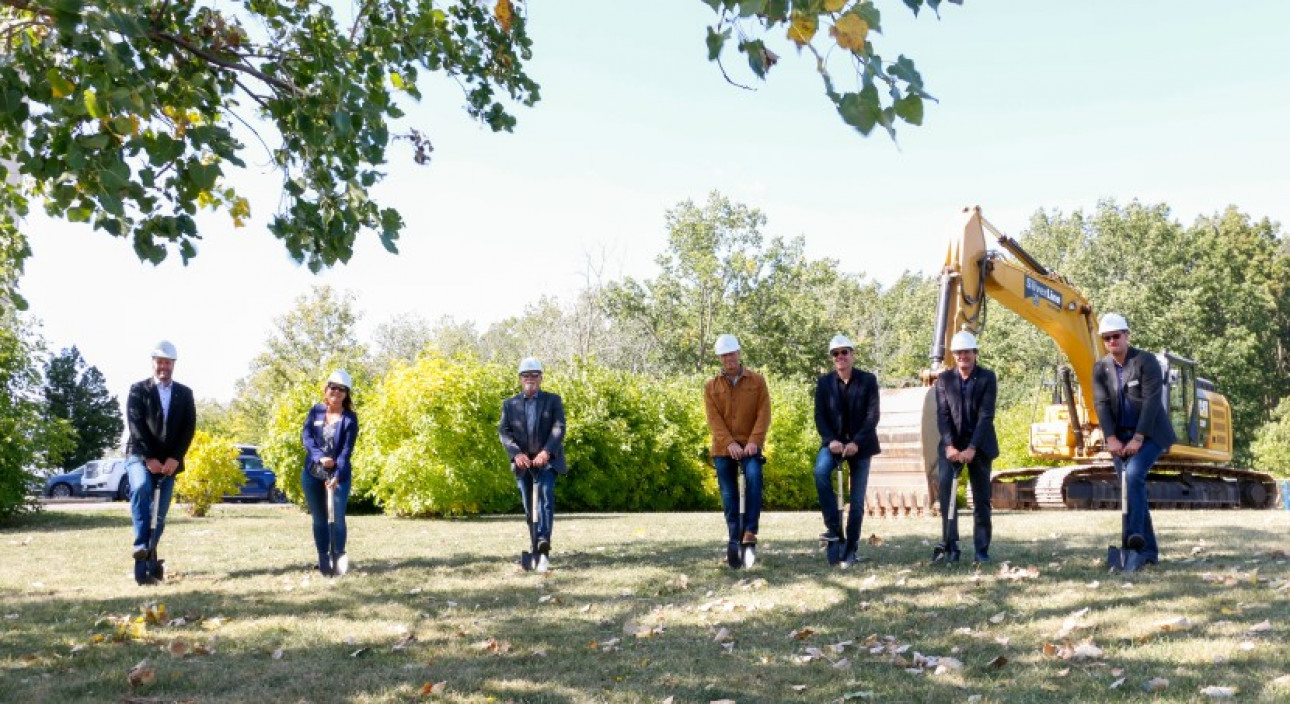 Guelph, ON – July 16, 2020
Development for a 98-suite, rental apartment building at 100 Lancaster Drive, Welland is underway.
Mayor Frank Campion and city staff attended a private groundbreaking ceremony on Wednesday, September 23rd, 2020, to celebrate the construction kick-off.
Development for the new property, called Lancaster Park, is managed by SkyDev, part of Skyline Group of Companies based in Guelph, ON. This development will bring much needed rental housing stock to the city which is currently facing a low vacancy rate of 2.8%, and the provinces has indicated that vacancy rates are falling to even lower levels through 2020.
Lancaster Park will offer the city of Welland an additional 98 units of apartment housing in a mid-rise complex with high-end, condo-style rental suites. Amenities will include an indoor/outdoor lounge and terrace, and an on-site gym and yoga studio. The site is well located within walking distance to numerous grocery stores, and restaurants, with an adjacent transit stop. The suites will boast fantastic views of the City and adjacent park.
The development is slated for occupancy in Spring 2022.
"We're proud to break ground in Welland and offer high-quality living spaces for rent to nearly one hundred families in the face of a pandemic," said Greg Jones, President, SkyDev.
"SkyDev is working to promote the advancement of new residential development in many communities where housing demand is substantial."
The development will also have several environmental features, including on-site EV chargers and a community garden. This high-efficiency, fully electric building capitalizes on Welland's renewable hydro-electric and solar energy system.
"Our commitment to sustainability means better value to the families that will live here, our company, the city, and the community," said Jones.
The property will be managed by Skyline Living, also part of Skyline Group of Companies. Skyline Living currently manages 224 suites across two buildings in Welland, including Doral Tower at 100 Lancaster Drive adjacent to the new development site.
About SkyDev
SkyDev is a real estate development and construction oversight firm based in Guelph, Ontario.
Providing its services to Skyline Group of Companies, as well as new partnership ventures, SkyDev aims to be the property developer of choice. and is committed to creating meaningful value through its expertise in the development of sustainable multi-residential, office, and retail real estate across Canada.
To learn more about SkyDev, please visit SkyDev.ca.
SkyDev is part of Skyline Group of Companies.
For media inquiries, please contact:
Jeff Stirling
Director of Marketing
5 Douglas Street, Suite 301
Guelph, ON N1H 2S8
519.826.0439 x243