Les Jardins Radisson Damaged by Tornados That Touched Down in Gatineau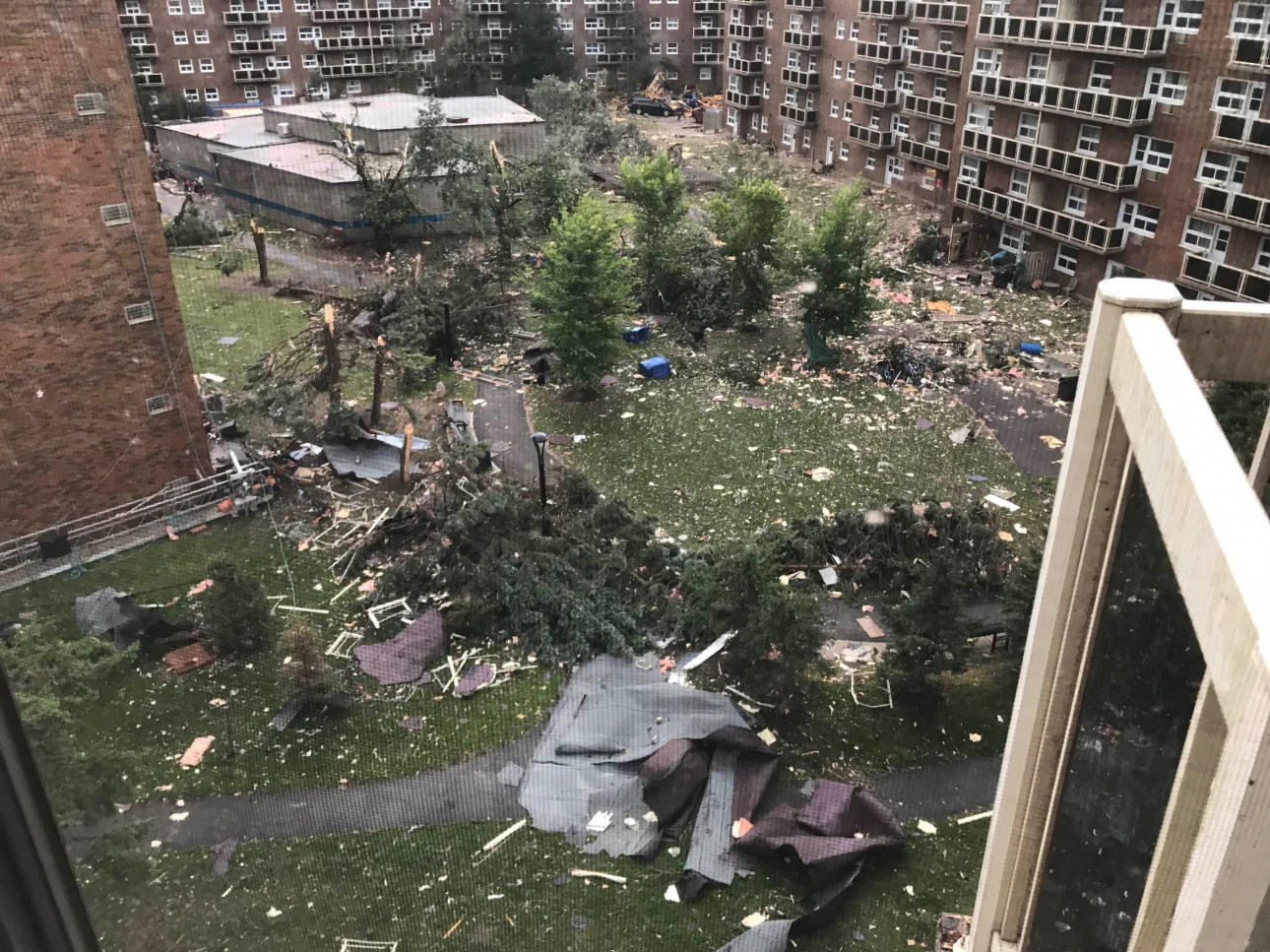 Gatineau, QC - September 24, 2018]
On September 21, 2018, our Les Jardins Radisson property was significantly impacted by the tornado that touched down in Gatineau, QC. Windows were shattered, balcony railings were damaged, cars were overturned, and portions of the roof were damaged.
After the immediate danger of the tornado passed, site staff worked with emergency services to evacuate tenants from the property. With tenants safe, Skyline Living began assessing the damage and working with city officials, Hydro-Quebec, the fire department, and the police department to determine next steps.
One of the first steps taken was to have all buildings inspected by the engineering firm Douglas Consultants Inc. Following their detailed inspection of each building, Douglas Consultants Inc. have confirmed that all are structurally sound. This is good news, as it means tenants will be able to move home in the near future.
From a power restoration perspective, Hydro-Quebec initially informed Skyline Living that the property would likely be without power for at least a week. Judging by the progress to date there are some indications this will happen sooner than expected.
Skyline Living continues to work in concert with the City of Gatineau to ensure the safe return of all residents as soon as possible. Communication is flowing back and forth between Skyline Living and Gatineau city officials, highlighting restoration updates and discussing next steps.
When tenants were evacuated, they were not able to take everything they need for an extended period away from their home. While the property is still littered with fallen debris, Skyline Living staff will be on property from 10:00 am – 7:00 pm every day this week escorting tenants to their suites to retrieve necessary items. Tenants coming to the property should bring their suite keys, photo ID, and wear sturdy shoes.
In addition to their belongings, a number of tenants left their vehicles on the property when they were evacuated. Skyline Living is working with the construction crews and Hydro-Quebec to develop a timeline on when it will be safe for tenants to retrieve their vehicles.
"When a disaster like this happens, our first priority is the safety of our tenants," stated Matthew Organ, President of Skyline Apartment REIT. "Our second priority is to help tenants return to their homes as quickly as possible."
"We currently have over 75 people on site working towards the common goal of getting our tenants home. This includes individuals from Hydro-Quebec, our restoration crew, and our own Skyline Living employees that have come from around Quebec and across Ontario to help," continued Matthew. "The progress we have made over the last few days would not have been possible without the support of the officials at the City of Gatineau, Hydro-Quebec, the brave men and women of the emergency services, and our tireless site staff. It would also not be possible without the support of our tenants. In the midst of a very stressful time, they have remained positive, supportive and flexible"
Skyline Living has been working diligently to keep tenants informed and responding to inquiries on their website (SkylineLiving.ca) and social media networks (Facebook, Twitter, and Instagram). They will continue to provide updates as more information becomes available.
For those not directly affected by this tragedy, and looking for a way to help, Skyline Living encourages people to reach out to their local Red Cross Society and ask that their donation goes towards the Gatineau relief efforts.
About Skyline Living
Skyline Living, based in Guelph, is a division of the Skyline Group of Companies, a national real estate investment, and property management organization. Skyline Living is committed to providing best in class apartments, environmental leadership, and community support. Our goal is to improve the lives of our residents, our employees, and the neighbourhoods in which they live.
To learn more about the Skyline Group of Companies and Skyline Living, please visit our website at www.skylineliving.ca.
For media inquiries, please contact:
Jeff Stirling, Director of Marketing
Skyline Group of Companies
5 Douglas Street, Suite 301
Guelph, ON N1H 2S8
P: 519.826.0439 x 243