Lucky Couple Wins Free Rent for a Year!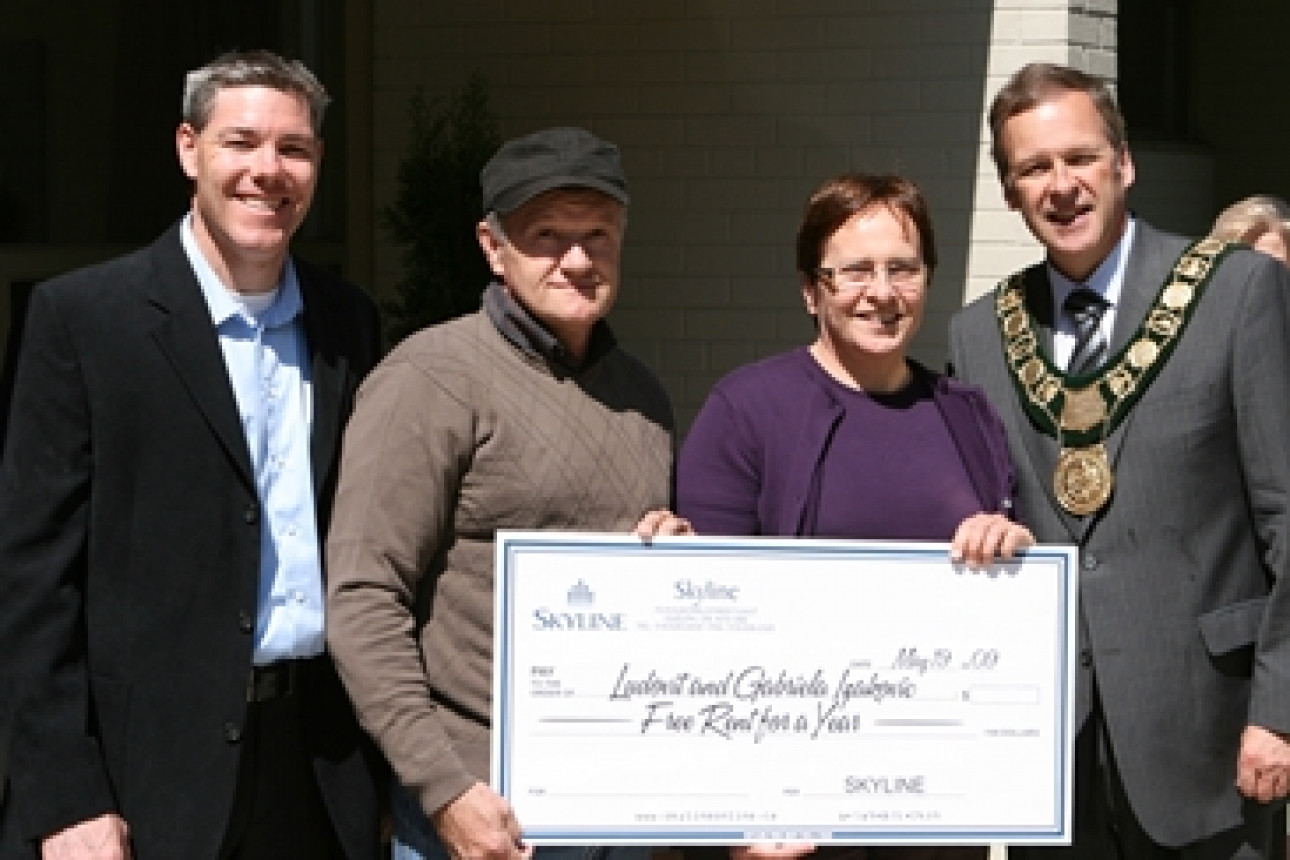 Matthew Organ and St. Catharines mayor Brian McMullan present Ludovit and Gabriela Izakovic with the Free Rent for a Year award.
On Tuesday, May 19th, Skyline awarded one lucky couple Free Rent for a Year at Tuscany Village - the company's flagship property located in St. Catharines, ON. The announcement was made at the grand opening ceremonies for the newly renovated property.
The lucky couple were the winners of the 5 month long campaign that was used to help draw attention to the property once the first wave of new units were ready to be rented. An overwhelmed and emotional Gabriela, who along with her husband Ludovit had just moved into their new apartment, couldn't believe they won the contest.
When asked what they thought of their new home, Ludovit replied, "From the moment we saw it, we knew it was the right decision (to sell their home and rent). Everything is beautiful, everything is new," he says.
Skyline spent nearly $5 million on renovating the two highrise buildings built in 1965. The transformation has been remarkable with the finished product feeling more like a high end condo unit than a rental apartment. Each suite features granite countertops in the kitchens and bathrooms, porcelain tile flooring, new carpeting and appliances. Residents also get to enjoy new balconies with tinted glass railings, all new common areas and extensive landscaping.
The reaction from potential renters visiting the property has been one of amazement. Many of those contemplating whether to buy a condo or rent an apartment, much like Ludovit and Gabriela, are choosing the rental option. When compared side by side, a similar 2 bedroom condo costs anywhere from $400 - $700 more than renting a suite at Tuscany Village. For many, the decision was an easy one to make.
Left: St. Catharines mayor, Brian McMullan cuts the ribbon at Tuscany Village's grand opening. Right: Mayor McMullan presents Matt Organ, Jason Ashdown and Jason Castellan a plaque recognizing the city's appreciation for Skyline's commitment to St. Catharines.