SkyDev Breaks Ground In Chatham, Ontario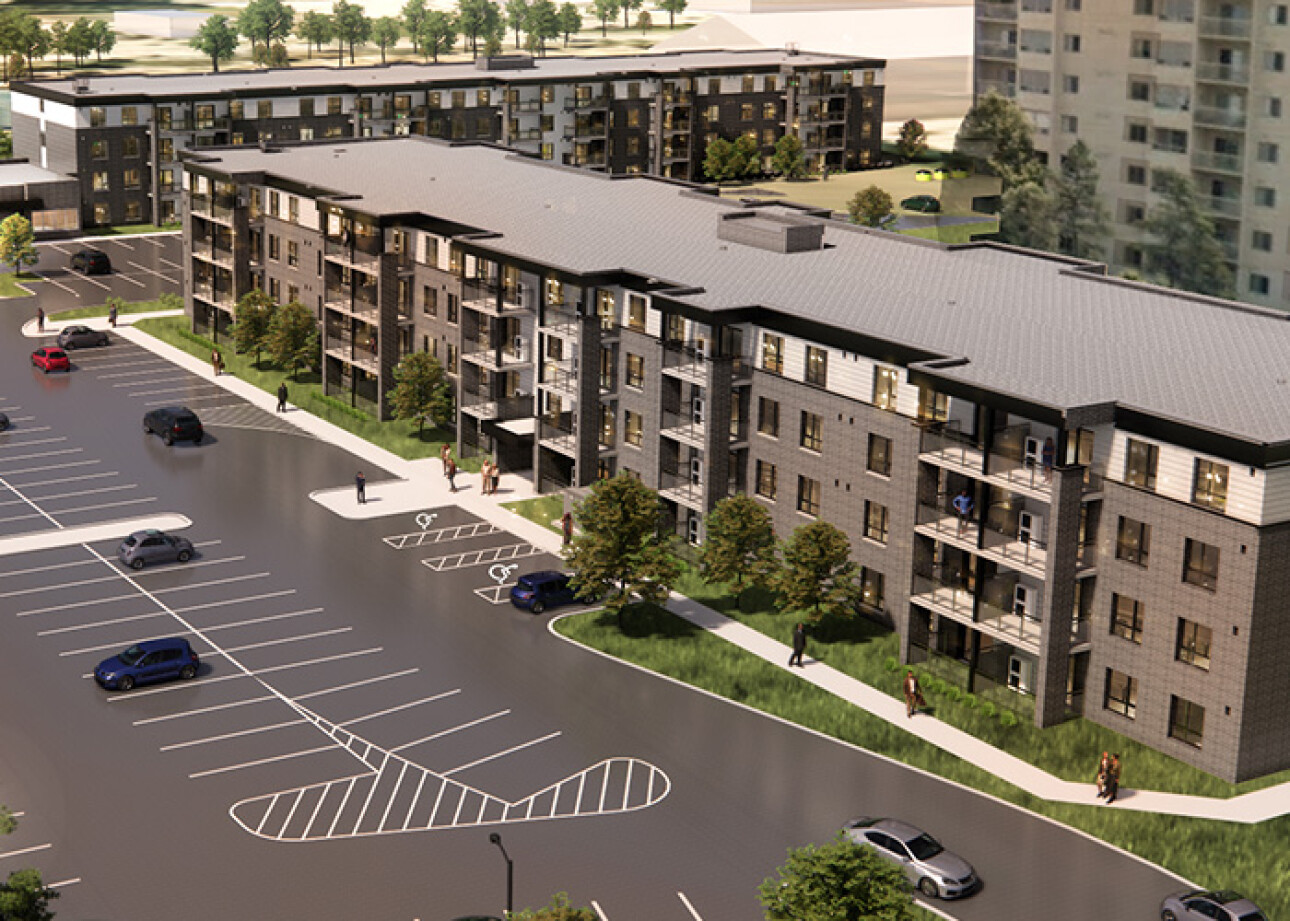 [Guelph, ON – June 22, 2021]
Development has begun on a new 138-suite rental apartment building at 53 & 57 Riverview Drive in Chatham, Ontario.
SkyDev, the property's developer, released a virtual groundbreaking celebration video to kick off the development's construction.
Speakers in the video include Darrin Canniff, Mayor, Chatham-Kent, and Stuart McFadden, Director of Economic Development, Chatham-Kent.
The new development, called Rivers Edge, is owned by Skyline Apartment REIT. Once the development is complete, the complex will be managed by Skyline Living, which currently manages 789 suites across ten properties in Chatham, including 89 Riverview Drive on the same street as the new development site.
SkyDev, Skyline Apartment REIT, and Skyline Living all operate under Skyline Group Of Companies, based in Guelph, Ontario.
"Our friends from Chatham-Kent, RHC Contracting, and Skyline have come together to celebrate a milestone of breaking ground, and to share in the pride of launching Rivers Edge," said Greg Jones, President, SkyDev, in a video message as part of the virtual groundbreaking.

"I would like to say thank you to the Mayor and Council [of Chatham-Kent] for being champions of rental housing investment."
The Rivers Edge development will comprise a four-storey complex with luxury suites and on-site amenities, including an indoor/outdoor lounge and terrace and an on-site gym and yoga studio. The site is located on the banks of the Thames River and offers spectacular balcony and patio views. It is also situated just minutes from Highway 2 (Grand Avenue West).
"We're excited here in Chatham-Kent about the Rivers Edge development," said Darrin Canniff, Mayor of the Municipality of Chatham-Kent.

"What it means to the community is huge. We're creating a lot of new residential spaces that we need."

"It seems like yesterday that it was Fall 2019 when I drove to Guelph to meet with [the Skyline] team to discuss the opportunities available here in Chatham-Kent," added Stuart McFadden, Director of Economic Development for the Municipality of Chatham-Kent.

"It was an absolute pleasure to work with [them]."
The development will also have several environmental features, including on-site EV chargers and a community garden.
The development is slated for occupancy in Fall 2022. Those interested in renting at Rivers Edge can visit RiversEdgeApartments.ca for more information.
About SkyDev
SkyDev is a real estate development and construction oversight firm based in Guelph, Ontario.
Providing its services to Skyline Group of Companies, as well as new partnership ventures, SkyDev aims to be the property developer of choice among its key stakeholders.
SkyDev is committed to creating meaningful value through its expertise in the development of sustainable multi-residential, office, and retail real estate across Canada.
To learn more about SkyDev, please visit SkyDev.ca.
SkyDev is part of Skyline Group Of Companies.
About Skyline Apartment REIT
Skyline Apartment REIT (the "REIT") is a privately owned and managed portfolio of primarily multi-residential properties, focused on acquiring both established and newly developed properties in secondary and tertiary communities across Canada.
Skyline Apartment REIT is distributed as an alternative investment product through Skyline Wealth Management Inc. ("Skyline Wealth"), the exclusive Exempt Market Dealer for the REIT.
Skyline Apartment REIT is committed to providing best in class apartment suites and service to its residential tenants, while surfacing value with a goal to deliver stable returns to its investors.
To learn more about Skyline Apartment REIT, please visit SkylineApartmentREIT.ca.
To learn about additional alternative investment products offered through Skyline Wealth, please visit SkylineWealth.ca.
Skyline Apartment REIT is operated and managed by Skyline Group Of Companies.
About Skyline Living
As one of Canada's most prominent apartment rental providers, Skyline Living exists to provide safe, clean, and comfortable places for its residents to call home.
Providing homes in dozens of communities across Canada, Skyline Living is an industry leader in customer service, environmental stewardship, and community giving. It works to create and maintain thriving, vibrant communities for its residents, employees, and the neighbourhoods in which they live and work.
To learn more about Skyline Living, or for rental inquiries, please visit SkylineLiving.ca.
Skyline Living is a part of Skyline Group Of Companies.
For media inquiries, please contact:
Jeff Stirling
Director of Marketing
5 Douglas Street, Suite 301
Guelph, ON N1H 2S8
519.826.0439 x243