Skyline Apartment REIT Announces New Unit Price, Distribution per Unit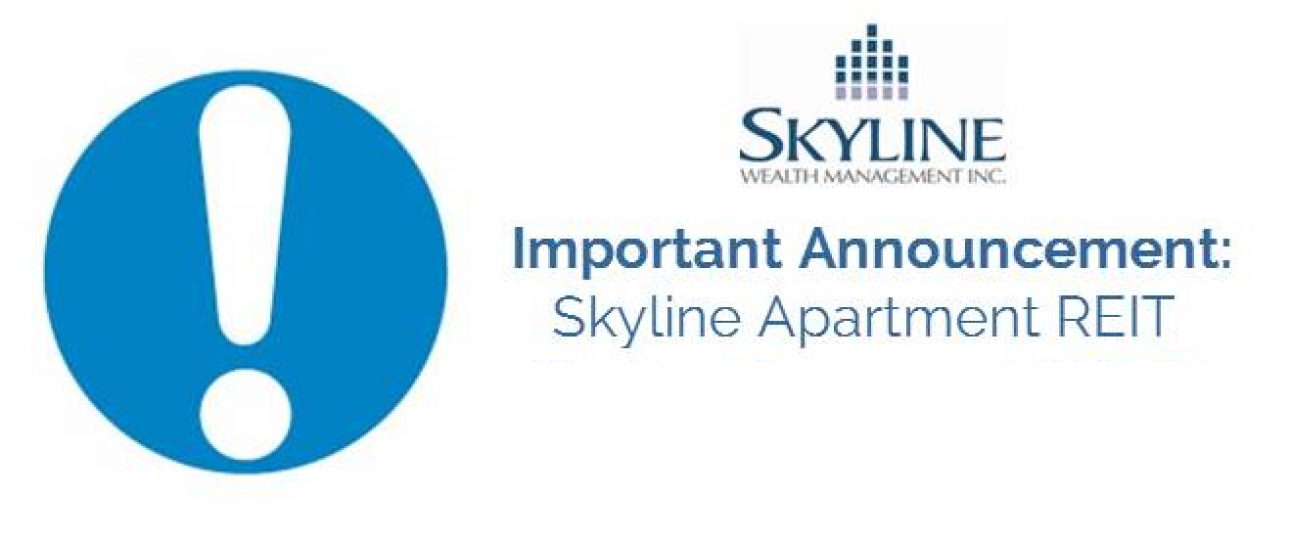 We are pleased to announce an increase in the value of Skyline Apartment REIT's Unit Price from $14.75 to $15.00 per Unit, approved by the Skyline Apartment REIT Board of Trustees and effective November 7th, 2017. This increase reflects the strong 2017 operational performance, current market value of the portfolio, and a solid 2018 forecast for the Skyline Apartment REIT.
The Net Asset Value ("NAV") process for Skyline's private REIT Units begins with a market valuation of each respective REIT's portfolio of assets. Next, the value of the outstanding debt (mortgages and liabilities) is subtracted—leaving the NAV of each REIT. Lastly, the NAV is divided by the number of outstanding Units of that REIT (currently held by Unitholders). The new Unit value is a direct reflection of the market value of the real estate. For more information about how Skyline's REIT Unit values are calculated, please see our FAQ page on our website.
The Skyline Apartment REIT recently completed a large-scale disposition of its multi-residential assets in the city of Hamilton, ON, totaling nine properties and 1,036 apartment units. The total sale price was $173M, making the sale one of this year's significant multi-residential transactions in the Canadian real estate industry. While the milestone Hamilton disposition surfaced significant gains from the Hamilton, ON portfolio, the disposition affected the overall Funds From Operations (FFO)* for the Skyline Apartment REIT. As a result, the Skyline Apartment REIT Board of Trustees has also approved a change in the Skyline Apartment REIT Annual Distribution Rate from $1.00 per Unit to $0.90 per Unit, effective December 15th, 2017.
The sale of the Apartment REIT's assets in Hamilton was an advantageous disposition which will allow for capital to be re-deployed into other accretive opportunities in Canada's secondary and tertiary markets, where the Apartment REIT has proven strong and successful," says Jason Castellan, CEO and Co-Founder, Skyline Group of Companies.
"While the strong performance of our Apartment REIT portfolio has resulted in a Unit Price increase, we have changed our Distribution Rate due to the sale (and therefore loss of rental income) of the 1,036 multi-residential units in Hamilton. Looking forward, we will continue to seek income-producing multi-residential properties to provide an accretive increase of income for the benefit of our Unitholders."
The Skyline Apartment REIT is Skyline's most established private real estate investment product, and just one of the solid, stable investments that Skyline is proud to have been offering to you, our valued investors, for nearly two decades. Skyline will continue to look for opportunities that will surface even more value for our unitholders.
Frequently Asked Questions About Skyline Apartment REIT's New Unit Price and Distribution Per Unit
Q: Why has the Skyline Apartment REIT distribution rate decreased from $1.00 per Unit to $0.90 per Unit?
Skyline Apartment REIT: At the time of the transaction, Skyline Apartment REIT owned 17,105 rental units (suites). When the Hamilton portfolio was sold, the REIT realized a net reduction of 1,036 rental units. The transaction effectively reduced the distributable income in the REIT by approximately $0.08 per Unit, as it no longer had the rental income from those 1,036 rental units. If the REIT would have continued the distribution rate of $1.00 per Unit, there would have been more cash distributed to Unitholders than the available income to distribute.
Commentary from Skyline Wealth Management Inc.: The Hamilton disposition was very profitable for the Apartment REIT, and the portfolio remains healthy. By keeping the REIT's payout ratio around the 90% level, Unitholder distributions will continue to be sustainable going forward. The decrease in distribution rate was a prudent action for the REIT to take.
Q: What's the difference between Investment Yield & Investment Return (i.e. performance)?
Skyline Apartment REIT:Investment Yield is the cash flow return (distributions received), expressed as an annual percentage rate, based on the cost of the investment. Investment Return is a measure of the growth rate of the investment that incorporates both the distributions received, and changes in the Unit value of the investment.
Skyline Apartment REIT:
Year-to-date return: 13.49%

1-year annualized return: 14.15%

3-year annualized return: 11.66%

5-year annualized return: 14.70%

10-year annualized return: 12.86%

Since inception (2006) annualized return: 12.69%
Q: Why was there a valuation done mid-year? Will there be another valuation done in the new year?
Skyline Apartment REIT: Due to the significant relative size of the Hamilton disposition, and to treat all investors fairly, a valuation needed to occur after this transaction settled. As per usual practice, another valuation will occur in the first quarter of the new calendar year.
The contents of this post do not constitute an offer of, or solicitation for, the purchase and sale of any securities under any circumstances. The information provided on this website is for informational purposes only and should not be relied on for purposes of making any investment decision to purchase or sell securities. In making any such investment decision, investors should rely solely on information contained in the private offering memorandum and related subscription documents for any investments offered by Skyline Wealth Management Inc.. Sales of interests in any investments offered by Skyline Wealth Management Inc. are only made to certain eligible investors pursuant to such private offering memorandum and related subscription documents. Such materials contain more complete information on any applicable investments, including fees and risk factors. Please read such materials carefully before making any investment. Prospective investors must make an independent assessment of such matters in consultation with their own professional advisors. Nothing in this post should be construed as investment, legal, tax, regulatory or accounting advice.

Commissions, trailing commissions, management fees and expenses all may be associated with the REITs. Please read the offering documents before investing. The indicated rates of return are the historical and annual compounded total returns including changes in unit value and does not take into account sales, redemption, distribution, or optional charges or income taxes payable by any unitholder that would have reduced returns. There can be no assurances that the REIT will be able to maintain its net asset value at a constant amount or that the full amount of your investment in the REIT will be returned to you. Past performance may not be repeated.

Some of the investment products offered by Skyline Wealth Management Inc., including in particular those related to Skyline Apartment Real Estate Investment Trust, Skyline Commercial Real Estate Investment Trust and Skyline Retail Real Estate Investment Trust, are from related issuers. A full list of issuers related to Skyline Wealth Management Inc. and details of the relationship between them is available upon request from Skyline Wealth Management Inc.