Skyline Living Wins in Two Categories at the 2022 PPMA Awards

April 5, 2022
GUELPH, ON – Skyline Living is proud to announce that on Tuesday, March 8th, 2022, Skyline Living won in two esteemed categories at the 2022 Professional Property Managers Association (PPMA) Awards of Excellence. Karolina Bagienski, the Property Manager for Skyline Living's Manitoba region, was awarded the Property Manager of the Year Award, and Skyline Living was awarded the Outstanding Customer Service Award.
The PPMA is Manitoba's leading community of knowledgeable, ethical, and innovative Property Managers, and they pride themselves on being the collective voice and driving force behind positive change within the multi-residential housing industry and the communities it serves.
The Awards of Excellence were held on Tuesday, March 8th at the Awards Luncheon, which took place at the Victoria Inn Hotel and Convention Centre in Winnipeg. This luncheon was part of the Suite Living Trade Show, which was held by the PPMA and featured 75 exhibitors.
Skyline Living prides itself as an employer and housing provider of choice, with rental buildings all across Canada and three properties in the province, all of which are located in Winnipeg. These properties include a total of six buildings and 411 units. This is the first year in which Skyline Living has submitted nominees for the PPMA Awards of Excellence.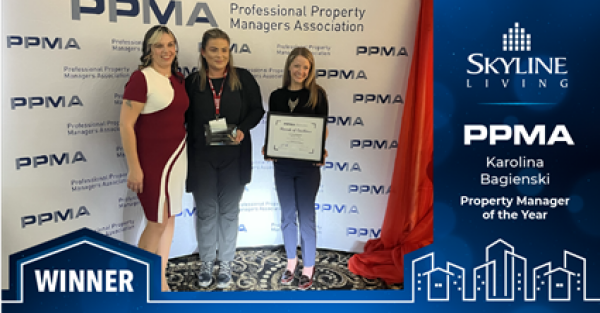 Karolina Bagineski (centre) receives the 2022 PPMA Property Manager of the Year award, along with Louise Taylor (left), Senior Property Manager, McCor Management, and Robyn Grant (right), Property Manager, Globe Property Management
Property Manager of the Year Award
The Property Manager of the Year Award celebrates high-achieving Property Managers in Manitoba throughout 2021, indicating stellar leadership, organizational skills, and interaction with staff and tenants. Under Karolina's leadership, Skyline Living's Manitoba properties sustained admirably low vacancy while also exceeding their expected success metrics.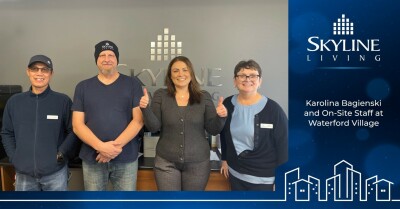 Staff at Waterford Village (from left to right): Leandro Pastor – Cleaner, Gregg Reichert – Maintenance, Karolina Bagienski – Property Manager, Barbara McBride – Senior Resident Manager

"As a Property Manager," Karolina said, "you need to have great work habits. You have to prioritize and multitask effectively. I've been with Skyline Living for almost three years, and I really love what I do and the staff and tenants I get to support. No day is the same as the one before it, which makes it both challenging and exciting."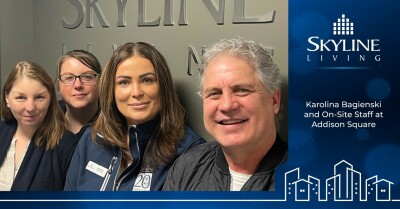 Staff at Addison Square (from left to right): Jennifer Lloy – Resident Manager, Angela Huebner – Assistant Resident Manager, Karolina Bagienski – Property Manager, Randy Georgettes – Maintenance
Karolina's dedication and hard work have not gone unnoticed. "Karolina as a leader has built a very high-performing team," said Regional Director George Marine, Karolina's supervisor. "Her continuous support and leadership are the reason the team in that region has been so successful in 2021. In fact, this is the second win for Karolina. She also won the prestigious Canadian Federation of Apartment Associations' (CFAA) Property Manager of the Year Award in 2021."
Outstanding Customer Service Award
For the Outstanding Customer Service Award, Skyline Living's victory was spurred on by the many new tenant-focused initiatives implemented throughout 2021. Although COVID was still impacting the ability to provide in-person events and direct contact for many processes, the new processes worked well to bridge those challenges and even improve on the previous service standards.
Tenant BBQ at a Skyline Living Community
"Over the last few years, we've embarked on a focused pursuit of continuous improvement and prioritized our Customer Service offerings, so this award is a gratifying acknowledgement that our efforts are making a difference." said BJ Santavy, Vice President, Skyline Living "Because our people are our service – implementing these new processes, training, and goals enabled our staff to take great ownership of their communities and consistently seek new ways to go above and beyond for their tenants, peers, and the communities in which we operate."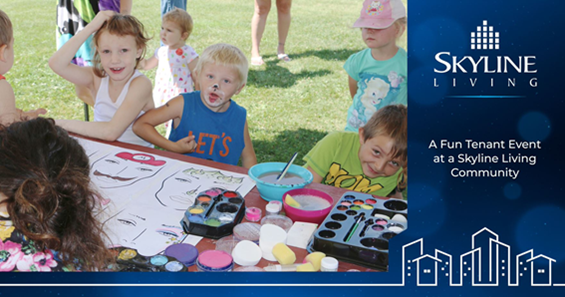 A Fun Tenant Event at a Skyline Living Community
Building strong communities is one of Skyline Living's mandates, and providing exceptional customer service and property management leadership are key values that drive that initiative.
About Skyline Living
As one of Canada's most prominent apartment rental providers, Skyline Living exists to provide safe, clean, and comfortable places for its residents to call home.
Providing homes in dozens of communities across Canada, Skyline Living is an industry leader in customer service, environmental stewardship, and community giving. It works to create and maintain thriving, vibrant communities for its residents, employees, and the neighbourhoods in which they live and work.
To learn more about Skyline Living or for rental inquiries, please visit SkylineLiving.ca.
Skyline Living is a part of Skyline Group of Companies.
For media inquiries, please contact:
Sara Penny
Social Media and Communications Manager, Marketing
Skyline Living
70 Fountain Street
Guelph, ON N1H 3N6
prskylineliving@skylineonline.ca