Listowel, ON
and surrounding area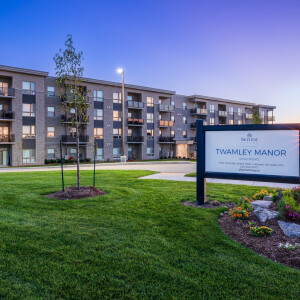 With easy access to shopping, restaurants, and plenty of natural park spaces, the brand-new Twamley Manor rental apartments are optimally…
see details

Get to know

Listowel
Listowel is a growing town with a lot to offer. Named after Listowel, Ireland, Listowel, Ontario is located in the heart of the municipality of North Perth at the intersection of Highways 86 and 23. The downtown center features classic Ontario architecture and a welcoming assortment of stores, restaurants, and a library, with larger more urban-style shopping and amenities on the burgeoning southwest side. This friendly community is bordered on all sides by sweeping farmland and is proud of its rich agricultural heritage.
Living in Listowel, you're never far from local attractions like Listowel Memorial Park and the Maitland River, or the North Perth Trail System. Supporting the smaller local communities, Listowel boasts a full-service hospital, medical clinic, golf courses, recreational facilities, schools, and the Spinrite Yarn Factory. Yearly events like Paddyfest, the big Irish festival, and the Agricultural Fair draw large crowds and put the town's hospitality and neighbourliness in the spotlight. There's plenty to enjoy and explore in the nearby towns of Palmerston, Drayton, Elmira, and Stratford.
Considering a move here? Skyline Living's Twamley Manor Apartments is the perfect place to call home!