Sarnia, ON
and surrounding area
London Road Apartments offer the perfect mix of old school charm and modern conveniences.
Water
Included
Heat
Included
see details
St. Clair Apartments, everything is within reach.
Water
Included
Heat
Included
see details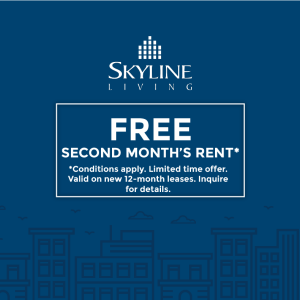 What will you do today? You could take a leisurely stroll through your residential neighbourhood, lined with mature trees, to…
Water
Included
Heat
Included
see details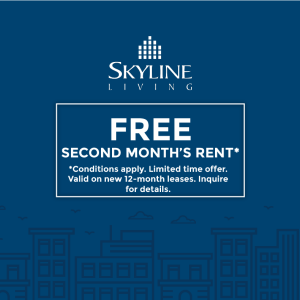 At the end of a busy day, unwind with a stroll through one of the lush green parks on your…
Water
Included
Heat
Included
see details

Sarnia
If you're looking for a 1, 2 or 3 bedroom apartment for rent, Skyline Living has many quality buildings to choose from. Check out our list of available properties on this page for you next home.
Living in Sarnia, Ontario
Sarnia, Ontario, part of Lambton County, is the largest city on Lake Huron in southwestern Ontario, with a population of about 73,000. Due to the lake effect, Sarnia rarely sees extreme cold temperatures or destructive weather. The cost of living in Sarnia is significantly lower than Ontario averages.
Sarnia is known for its musical and theatrical offerings, particularly the renowned International Symphony Orchestra. There are also over 100 parks, a museum featuring fossils and bones from all over the world, fresh water beaches, and a thriving sailing community. Canadian Space Agency astronaut Chris Hadfield hails from Sarnia.
Housing in Sarnia is generally very affordable, and there are many neighbourhoods offering houses and apartments for rent. Only one hour west of London and minutes from the USA border, Sarnia is perfect for commuters who prefer a smaller community.
Downtown
Sarnia's downtown has recently been the focus of major revitalization efforts, and apartments for rent downtown offer convenient access to transportation, healthcare, schools, parks, restaurants, and shopping. Check out Mapleview Manor and London Road Apartments for availability downtown.
Coronation Park
The mainly residential neighbourhood of Coronation Park is located south of Highway 402. Coronation Park lives up to its name, as it is packed with green spaces including Germain Park, Sarnia's largest active recreational park. This area offers many homes and apartments for rent, particularly for students of Lambton College only minutes away. Check out Devine Street Apartments for availability in Coronation Park.