Spring into Action: A Manageable Spring Cleaning Guide
Move aside, winter! Here comes spring with sunshine and daisies. Time to emerge from your winter hibernation and notice what it may have left behind, such as dust bunnies and cluttered items below your furniture.
If you're looking for that sweet sense of accomplishment and a fresh start to the season, then it's time to put the pedal to the metal and get spring cleaning! Read on for a few easy cleaning tips that will have you very re-leafed.
Schedule Your Cleaning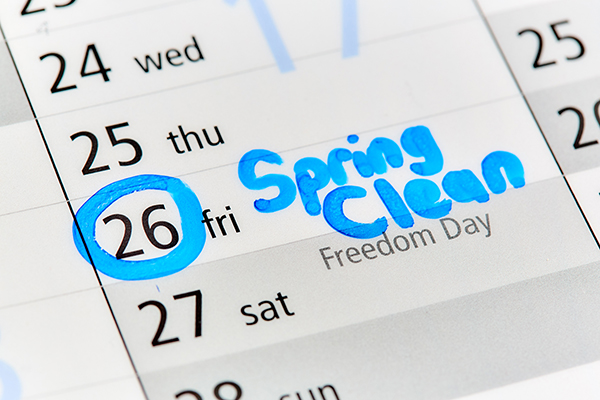 Are you a busy bee who is outside all day, giving you no time or energy to clean up?
Meeting the needs of your partner, family, kids, or roommates and finding that elusive work/life balance all at the same time doesn't make it any easier. Therefore, scheduling and time management are the keys to eliminating these challenges.
Consider scheduling your spring cleaning to a day off, preferably on the weekend. Pick a day where you have fewer responsibilities to tend to. This will help you prioritize your cleaning tasks and avoid any distractions. If you don't trust your memory, you can always write the date down or set a reminder on your calendar. We love those phone notifications when it's time to get to work!
Time management is an essential skill that takes a while to master. This Forbes guide on time management will ensure you nip it in the bud.
Prepare In Advance
To avoid getting caught in a jam, always come prepared! Assemble all the cleaning supplies before the big day. Since spring cleaning is all about getting in places that tend to get passed over every so often, it's best to declutter ahead of time.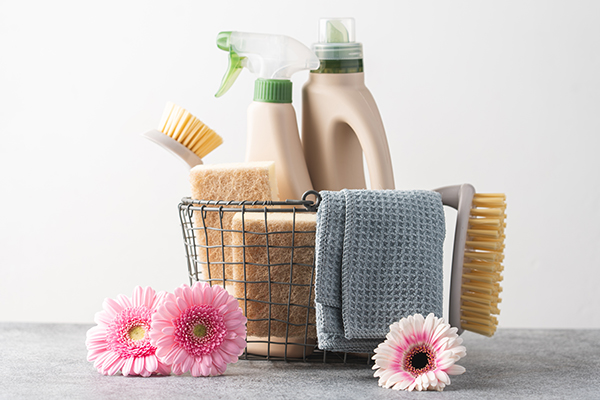 Leading up to the big day, plan to do a tidy up as you move around your home for 15 minutes each evening. Clean up your dishes, pick up clothes and items off the floor, and clear off counters and platforms for ease of access. If you decide to get some fresh air, you can take that chance to organize the plants and patio furniture on your balcony, too.
It helps a lot to write down a checklist noting every cleaning task you plan to tackle. If you are unsure of what to include, this printable Room-By-Room Spring Cleaning Checklist itemizes the tasks you need for a squeaky-clean home.
If you need help with safely moving large furniture and appliances, be sure to reach out to your friends, family, and neighbours. While you're at it, why not freshen things up and rearrange your furniture? Check out these 27 clever tricks to rearrange your furniture in every room.
Make it fun!
Time to spring into action! While spring cleaning can be a monotonous chore, nobody ever said it couldn't be fun, too. This Cleaning Bingo Card could bring out the competitive spirit within your home.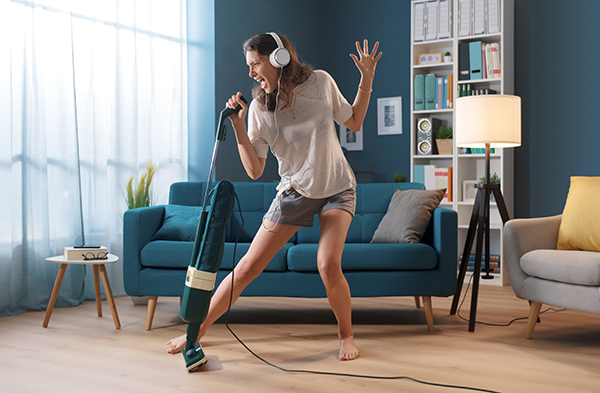 If you're into video games, Habitica is a free habit-building app that rewards you with in-game features as you finish each cleaning task. Whichever path you pursue, put on your favorite music playlist and get some dancing in!
Don't forget to take breaks. Grab a snack, lay down for a few minutes, and pat yourself on the back for the tasks you've already completed. To avoid procrastination, set an alarm on your phone to promptly get back to the task at hand.
Once you're done, feel free to reward yourself with a fun dinner or a night out. If you're too exhausted, Skyline Living has some fun recordings of past online events that you can enjoy from the comfort of your clean home.
Finally, let us know how your spring cleaning is going on social media. Tag your post with #SkylineLivingRocks and we'll be sure to give you a congratulatory shout out and virtual pat on the back! Happy spring cleaning!