Skyline Living and Skyline Group of Companies Win Two FRPO MAC Awards

Guelph, ON – December 14, 2021
Skyline Living and Skyline Group of Companies have earned two distinguished industry awards at the recent Federation of Rental-housing Providers of Ontario (FRPO) MAC (Marketing, Achievement, and Construction) Awards, celebrating the "best in the biz" in Ontario's rental housing industry.
"FRPO is the largest organization of its kind in Canada, representing the largest and most accomplished rental housing providers from coast to coast and often well beyond," said R. Jason Ashdown, Chief Sustainability Officer, Skyline Group of Companies.
"The MAC Awards are a showcase of excellence in our industry, where we can celebrate some very well-deserved and well-intentioned successes. These awards are recognition from our industry and from our peers for setting the bar high."
Impact Award Winner – Skyline Living
Skyline Living is delighted to announce that they have won the newest award introduced this year – the Impact Award. The Impact Award recognizes a rental housing provider that has achieved extraordinary social outcomes related to one initiative or project in Ontario.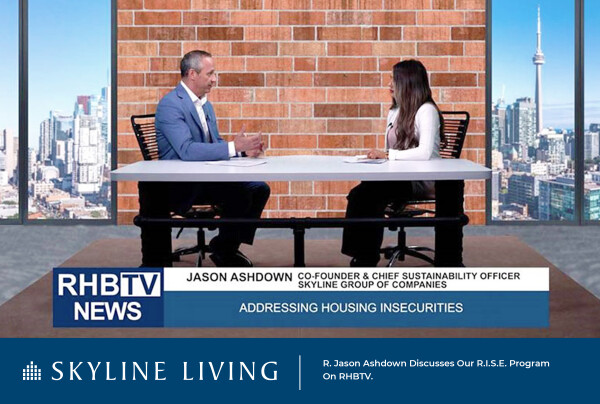 "We have always believed that everyone needs a helping hand in difficult times," said BJ Santavy, Vice President, Skyline Living.
"We're here to challenge the often negative perception of rental housing providers and prove that they do care deeply about their tenants. We're leading the way with our R.I.S.E. tenant assistance program and are proud to see this initiative being recognized by the industry. Our hope is that our peers will see the inherent value in a program that focuses on supporting and retaining our valued tenants and that it will become an industry standard."
Environmental Excellence Award Winner – Skyline Group of Companies
Skyline Group of Companies proudly took home the Environmental Excellence Award for demonstrating excellence in environmental stewardship and a commitment to greener rental communities in the areas of energy and water conservation, waste management, net zero/ positive developments, or other sustainable initiatives.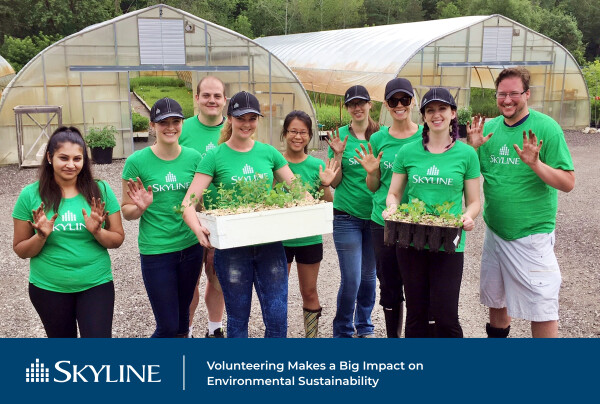 "Businesses like ours might typically be hesitant to share our successes—our 'secret ingredient' —with the competition, for fear of seemingly giving away our edge," noted Ashdown.
"However, we have learned a lot from our peers over the years, and I believe that as an industry we can achieve great things if we all work together. Innovation is critically important. We can always do better if we choose to."
Skyline Group of Companies was also a finalist for the Community Service Award of Excellence (Rental Housing Provider), while Skyline Living was a finalist in an additional two categories: Leasing Professional of the Year – Vicki Peterson and Resident Manager(s) of the Year – Sergio Ortiz & Adriana Gutierrez.
Please join us in congratulating Skyline Living and Skyline Group of Companies' winners, finalists, and all the nominees for their outstanding achievements.  
2021 has been an incredibly successful year for both Skyline Living and Skyline Group of Companies who brought home awards from the Canadian Federation of Apartment Associations (CFAA) Rental Housing Awards and the Investment Property Owners Association of Nova Scotia (IPOANS) Innovation and Excellence Awards.